In 2017 over 2 million Americans called the National Suicide Prevention Lifeline (NSPL) seeking emotional support or resources for someone who was contemplating suicide. Many of the callers were experiencing suicidal thoughts or had attempted to end their lives in the past. Callers to the NSPL were from every corner of the United States. Callers were young and old, rich and poor, male and female, black, white and brown, religious or non-religious, gay and straight because suicide does not discriminate. Many were struggling with a diagnosed mental illness like depression, anxiety or mood disorders. Many people in crisis who called the NSPL were not suffering from a mental illness but were enduring extremely stressful life events like the loss of a loved one, divorce, job loss, loss of a home, addiction, deployment, or returning from combat. What they all had in common was the need for help to prevent their own or a loved ones death by suicide.
In 2016, nearly 23,000 Americans used a firearm to end their lives. In Missouri, over 500 people used a firearm to end their life in 2016. The rate of suicide deaths with a firearm has increased nearly every year since 2006 making it the leading method by which Americans and Missourians end their life. The firearm suicide rate is currently twice the rate of suicide caused by suffocation, three times those resulting from poisoning, and twenty times higher than intentional falling deaths.
Why do guns make up the highest percentage of fatal suicide attempts? In the United States 41 percent of the population lives in a home with a firearm. In Missouri nearly 30 percent of the population lives in a home with a firearm. Arguably, that rate steadily increases in the more rural areas of the state. The mere fact that many Missourians have access to a firearm at home puts them at increased risk for suicide death. It isn't that they are more likely to attempt suicide, it is the fact that they have access to an extremely lethal means for suicide. Studies have shown that the survival rate in a suicide attempt by firearm is between 1 and 10 percent. Those who use a firearm in a suicide attempt do not have the opportunity or ability to summon help or reconsider in the midst of an attempt. There are ways we can prevent gun suicides; by putting time and distance between the person at risk for suicide and a firearm.
The Safer Homes Collaborative is working to promote the message of putting time and distance between the person at risk for suicide and firearms. Research clearly demonstrates that suicide death be prevented simply by temporarily removing firearms or making them more difficult to access for individuals in the midst of crisis. When we temporarily limit access to firearms, people attempting suicide have a greater chance of surviving and getting a second chance at life. The opportunity for survival is important because the overwhelming majority – 90 percent – of people who attempt suicide and survive do not go on to die by suicide. Additionally, 70 percent will never make another suicide attempt.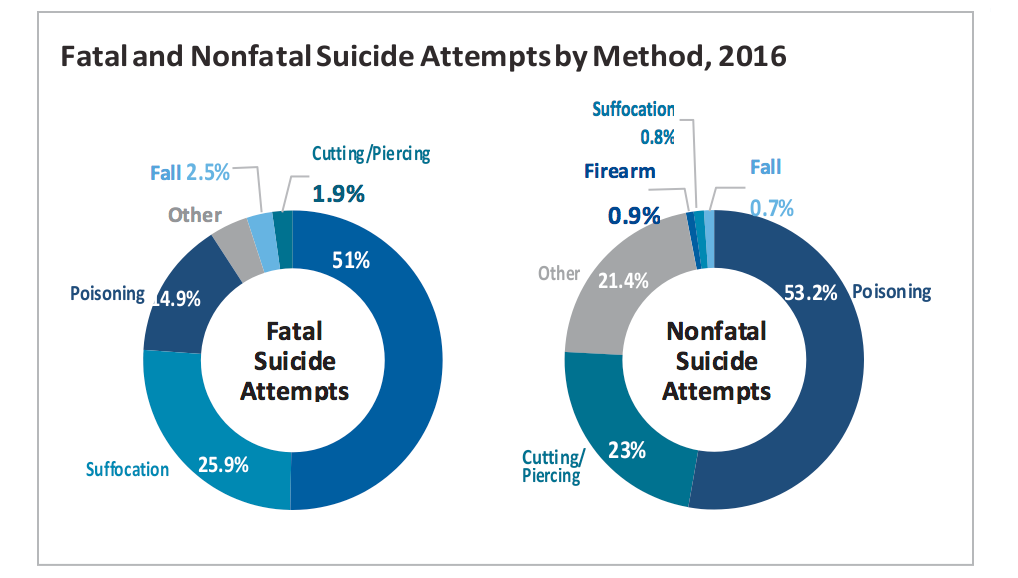 While some suicides are planned for days, weeks, or months in advance, nearly two-thirds are impulsive acts with no prior planning. Interviews with survivors of near-lethal suicide attempts revealed that about a 25 percent of them made their attempt just five minutes after making the decision to end their life. Nearly half made an attempt within twenty minutes, and about 70 percent did so within an hour. This demonstrates a crucial fact: by temporarily removing or delaying access to firearms, many suicides can be prevented.
Men are at greatest risk for firearm suicide death, representing 85 percent of firearm suicide victims. Men are at unique risk because their access to firearms far outpaces that of women: men are three times more likely to own a firearm compared to their female counterparts. While women are more likely to attempt suicide, they are more likely to survive their suicide attempt because they use less lethal methods, with opportunity for survival or to change their minds.
Children and teens are uniquely vulnerable to suicide. Suicide is the second leading cause of death in children, teens and young adults ages 10 – 24. In 2016, 4.6 million children lived in a home firearm; many of with easy access to that firearm during a time of crisis. In 2016, 867 youths under 18 used a firearm to end their life; that's more than two children a day ending their life with a gun. In a study of youth gun suicides, over two-thirds took their lives in their own home, and over half used a firearm owned by a family member.
These facts demonstrate why the Safer Homes Collaborative spreading the message that temporarily storing guns away from home or limiting access during a time of crisis can keep a person safer and may save their life. We believe the gun owing community has a vested interest in preventing the tragedy of suicide. There is no better group than gun owners to promote a message of safety to prevent gun suicide. Since launching the Friends Don't Let Friends Drive Drunk campaign in 1983, more than 68% of Americans reported that they have tried to prevent someone from driving after drinking. Just like the Friends Don't Let Friends Drive Drunk campaign, The Safer Homes Collaborative believes we can shift the conversation that gun owners can prevent the tragedy of suicide. Considering temporary off-site storage or limiting access to guns when a friend family member may be suicidal can keep that person safer and may save their life.
Get involved with the Safer Homes Collaborative by:
Distributing Safer Homes Collaborative Materials in your business,
Participate in the Conversations about Access to Lethal Means (CALM) Training,
Join the Safer Homes Collaborative coalition to help us spread the message.